One of the most used image formats is JPG, which is very popular among digital photographers. It is widely used because its degree of dimensions, storage size, and image quality are customizable. Students mainly came across a scenario where they needed to convert PDF files to JPG because they could view images in high-quality without using any unique third-party tool.
PDF conversion can be done smoothly with the help of innovative PDF converters like UPDF. This PDF converter never lets down its users and offers a wide range of features to make a task easier for them. For this reason, this article will cover an overview and step-by-step guide on how to convert PDF to JPG with UPDF.
Part 1. Best Tool to Convert PDF to JPG Recommended
UPDF is an incredible third-party PDF tool that can help make your PDF files more interactive and professional. With this tool, you can intuitively manage small and large PDF files without limitations. It comprises updated technical algorithms which can convert PDF to JPG in high quality. It stands as one of the most popular PDF converters because of its higher efficiency and accuracy.
With the help of UPDF, you can convert PDF files with business-related databases or any other content in image formats like JPG. The PDF conversion is not limited to file formats as it supports many other document formats such as Word, Excel, PPT, XML, HTML, CSV, PDF/A, and Rich Text Format.
How to Convert PDF to JPG in Seconds with UPDF
UPDF is an easy-to-use tool that eliminates all the complicated procedures for its users. You must be thinking that converting PDF to JPG will require lots of hassle and time, but it is not true. By using this exceptional PDF converter, you can convert the files ultimately. The steps listed here will help you convert PDF to JPG, so you can follow them without any second thought.
Step 1: Open UPDF Application and Add the File
Initially, install the UPDF toolkit on your device and open it. From the main interface of this PDF converter, select the "Open File" option and locate the PDF which you want to convert into JPG.
Step 2: Convert PDF to JPG
After adding the PDF file, click on the "Export PDF" icon from the right toolbar. From the listed options, select "Image," and a prompt window will open by it. Following this, click on image format options and select "JPG," and then manage the "Page Range." Next, click on the "Export" button.
Step 3: Save the Converted PDF
From the new window, select a folder in which you wish to save the converted document. Click on the "Save" button and wait a few seconds. Your image will be automatically saved in that folder.
Part 2. What Else Can You Do with UPDF
UPDF is a wide-ranging tool that can be used on multiple domains to solve numerous PDF problems. Some of the assistive key features of UPDF are listed here so you can know the helping parameters of this tool:
1. View and Annotate PDF
It is one of the topmost innovative and best PDF tools that can help you in viewing PDFs in multiple ways to improve readability. You can navigate the PDFs in well-defined manners and layouts. This tool also allows you to view PDFs in single- or two-page modes. You can also use its dark mode feature to minimize pressure on your eyes.
UPDF has an array of PDF annotation tools that are very convenient and collaborative. It can help you in reviewing the PDF files thoroughly and highlight the important points in them. There are more than 100 types of stamps and stickers in it which you can use to make a simple PDF more illustrative.
2. Edit PDF
With this efficient PDF editor, you can edit backgrounds, watermarks, links, texts, and images in a PDF. All the metrics of these things can also be customized with this tool. You can perform multiple types of edits to the objects in your PDF. Associating information in PDF with different authentic websites to make it more valid is also possible with this tool. Please check how to edit a PDF on Mac and Windows to learn more.
3. Encrypt PDF
Whether you want to encrypt bank statements or contract documents, this tool can help you with everything. You can lock to restrict their copying, editing, and printing. This tool also allows you to remove restrictions from existing PDF files. Changing passwords of a PDF file to make it more inaccessible is also very convenient with this PDF tool.
4. Sign a PDF
The most demanded feature in a PDF tool, especially in business industries, is the Sign PDF tool. With the help of assistive PDF tools like UPDF, you can sign PDF files irrespective of their size and layouts. This tool also allows you to customize your signatures as per the requirement of your fields.
5. Organize PDF
Organizing PDF files is one of the leading metrics and success services of UPDF. You can insert blank pages and remove unwanted pages swiftly with the help of this tool. You can also rotate or crop pages, as it will not affect the consistency of your PDF file. Another way to organize documents is to rearrange the pages in them.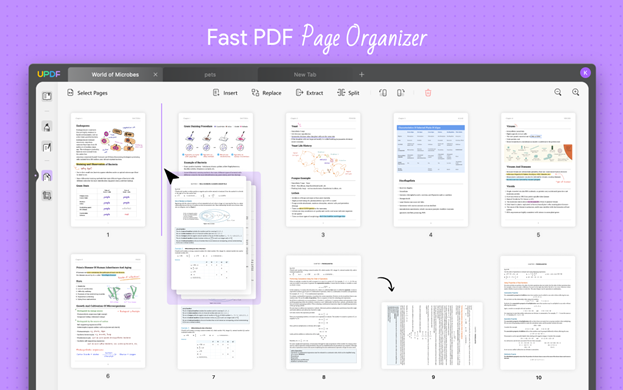 6. Reduce PDF Size
Sending large PDF files by email can be a challenging task, but you can solve this issue by using a prevalent tool like UPDF. It offers you to compress PDF files as per your need and choose a file quality of your choice.
Part 2: UPDF vs. Online PDF Converter
If we compare Online PDF Converter, which is one of the top free PDF converters, and UPDF, UPDF is the winner because it comprises all the advanced features that make it better than others. One of the basic comparing points is the Online PDF Converter is an online tool, so you need to have a strong internet connection to operate it. On the other hand, UPDF is an offline tool that has no concerns with good or bad internet.
Conclusion
To put it shortly, there are many PDF converters present on the web, but the most reliable one is UPDF. There are many aspects that set it apart from its competitors, and you can use them to make your PDFs more professional. Other than this, you can sign PDF files and customize your signatures flawlessly by using UPDF.